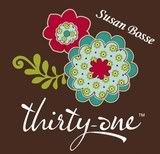 I have been taking a gander at various items from Thirty-One for over a year now and just never really broke down and tried them out!! I LOVE home party businesses and usually give all of them a try at least once! Well I am glad that I finally decided to give it a whirl. Susan is the BEST Thirty-One Consultant ever. I asked her about a zillion questions before picking a bag, font and what I wanted monogramed onto my bag. She was awesome and so professional through all of it.
After all the discussion and talk I finally decided on the Organizing Utility Tote in Harvest Floral!! I LOVE THIS BAG!!!!! It fits so much stuff in it. Right now my son's school is working on a cookbook so I have been at the school with my personal recipe binder and a few cookbooks that I was part of in the past pulling recipes to put in there, so I am carrying my giant 3" recipe binder, 3" coupon binder and 2 cookbooks in there. I could probably put just a little more in there but I am afraid my shoulder might not appreciate that! With the font and my initials it turned out really awesome!
One of the reasons that I love home businesses so much is the experiences that you have with the consultants. You feel taken care of and like you are actually helping to support someone financially and not just a giant monopoly that is out to take your money! That is why I would like to say that after doing a little more research I would say that Thirty One would be a great company to join if you were personally thinking of becoming a consultant with a company. It should would not hurt anything to just have a chat with Susan. Be sure you head over to her website and check out the great products and business opportunities. (click on banner above or at the side of the page to head to her website)
THANK YOU SUSAN!! I had a wonderful first Thirty-One experience!!